Powerline Park in St. Clairsville, Ohio greeted the 2016 AMSOIL Grand National Cross Country (GNCC) Series presented by Maxxis, an AMA National Championship, today, October 2, for the Polaris Ace Powerline Park GNCC. With only two rounds remaining in the 2016 season FMF/KTM Factory Racing's Kailub Russell continued his dominance where he secured not only the overall win, but also his fourth straight GNCC National Championship.
As the famed "10 seconds" was called and the green flag waved on the penultimate round, it was Rockstar Energy Husqvarna Factory Racing/Bel-Ray-backed Josh Strang who reached the line first to grab the $250 All Balls Racing XC1 Pro Holeshot Award. Strang was accompanied by Westfield Powersports KTM Presented by Moose Racing's Jordan Ashburn and MCS Racing Suzuki/Obermeyer/Kenda/MX Tech/Fly Racing's Ricky Russell as he lead the way into the woods.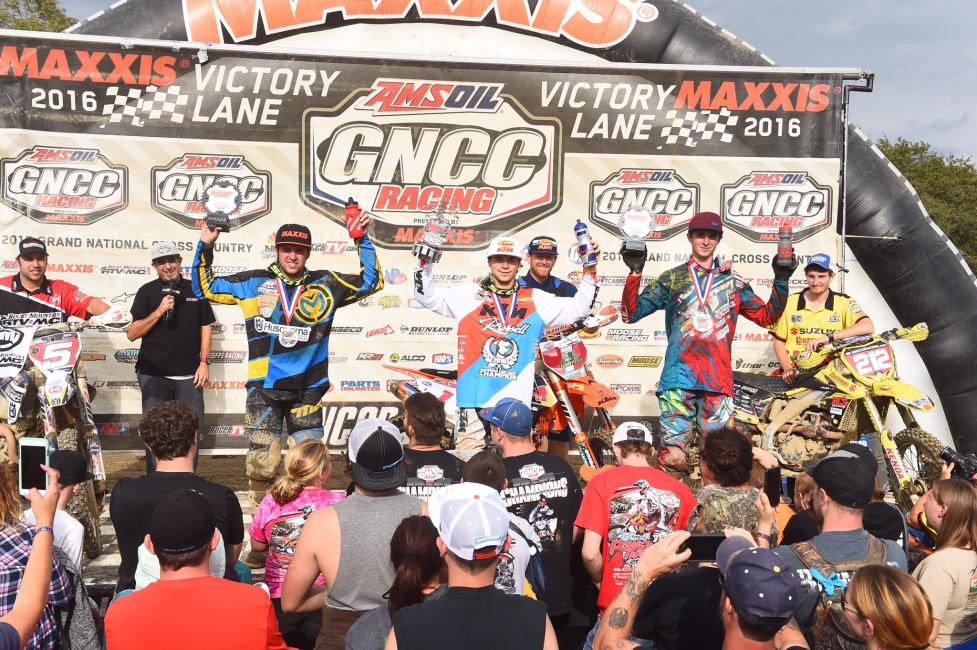 Overall Podium: (2) Thad Duvall, (1) Kailub Russell, (3) Ricky Russell.
Photo: Ken Hill
After working his way up from a mid-pack start K Russell made the pass for the early lead right after the rock garden. Strang continued to push and keep K Russell in his sights as he battled through his lingering ankle injury, but he soon felt pressure from Rocky Mountain ATV*MC/KR4 Arrive-N-Ride Team's Thad Duvall. Duvall was able to catch up and make the pass for second by the time the three-hour race reached its halfway point.
Duvall quickly set his eyes on catching K Russell who was a mere ten seconds ahead of him, and by the time the two-lap card was out Duvall had cut down the gap to four seconds, and had a visual on K Russell as they headed through the pits.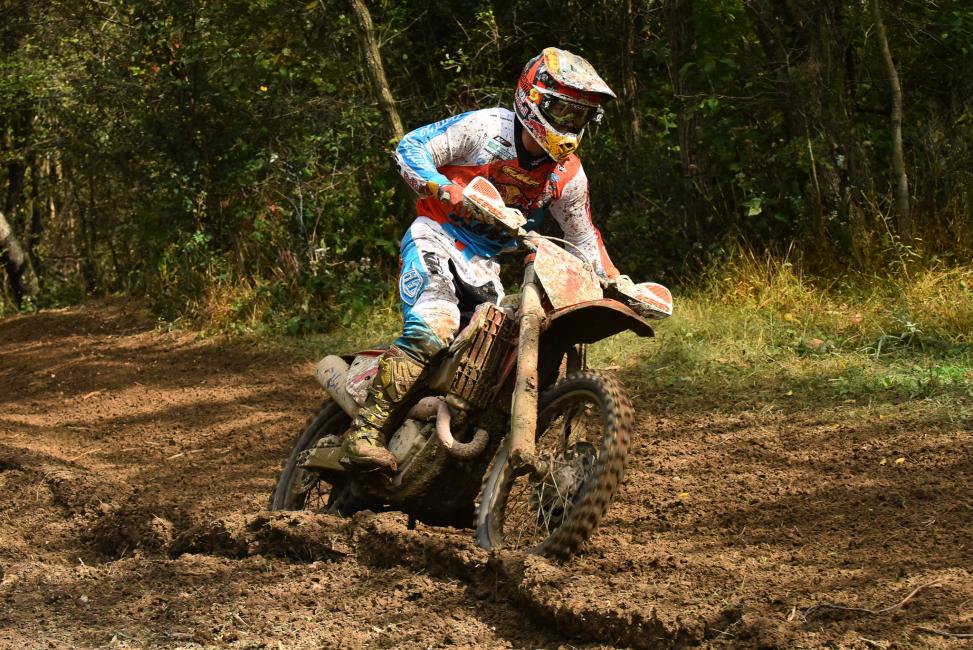 Kailub Russell will continue running the No. 1 plate in 2017 as he
clinched his fourth straight GNCC title today.
Photo: Ken Hill
As the duo came through the rock garden for the last time K Russell made a small bobble toward the end allowing Duvall an extra confidence boost. As Duvall witnessed this he vaulted out of the technical section in hopes of passing K Russell, but just one mile later Duvall found himself making a small mistake at a hill climb.
"I felt good the whole race. I was on the edge of winning, but I wanted to leave it all on the track," said Duvall. "On the last lap I reached the hill climb around the five-mile marker and we took a new line and I just couldn't make it over the log at the top. Once I fell I was stuck and by the time I got out I realized there wasn't anyone real close by so I just maintained my pace to hold onto second."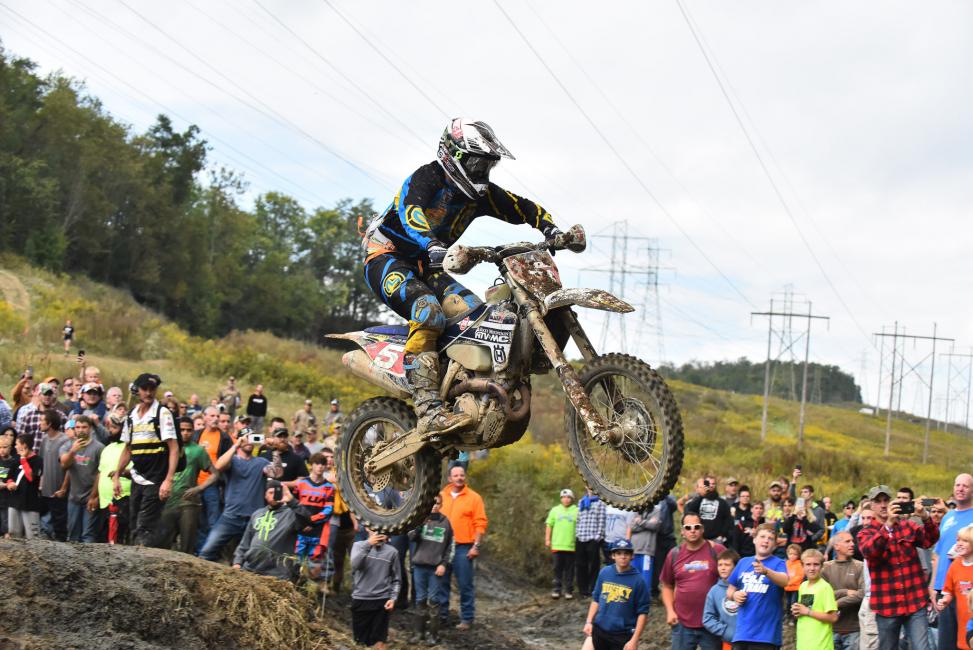 Thad Duvall is right on the edge of his first overall win this season
where he has solid string of podium finishes behind him.
Photo: Ken Hill
Meanwhile Strang was also facing some difficulties when his damaged radiator forced him to pull out of the race with only two miles remaining. This issue opened up the door for the third and final podium position. R Russell took advantage of the opportunity and the hard work he produced throughout the race as he moved into third.
"I rode a little tight the first few laps and then was able to loosen up," said R Russell. "I can't complain with another third place finish. We've been making some changes and they definitely are working. I'm completely confident in my setup and can come out here and do what I know I'm capable of doing."
With little pressure K Russell crossed the finish line victorious. Duvall would recover from his tip over for second overall and R Russell continued his podium streak where he rounded out the top three. Perhaps the most significant victory for K Russell was not the race win, but his fourth GNCC National Championship.
"I didn't get off to the greatest of the starts, but I made some moves and got into the lead early on," said K Russell. "I pulled a gap and tried to settle into a pace since it was so slick, but it wasn't fast enough. Thad and Josh was able to catch up and we rode together until Thad went down. I was so focused on the task at hand that I didn't realize he went down until I got the pit board a few miles after that. It feels good to get the win and the National Championship."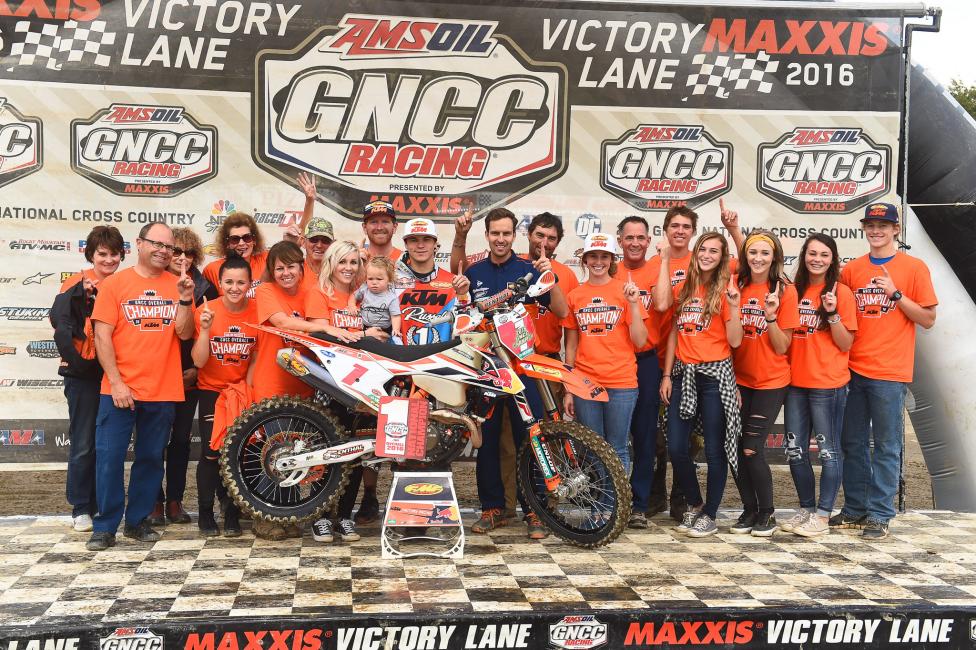 Kailub Russell's overall win allowed him to secure the National Championship.
Photo: Ken Hill
Unfortunately, Coastal Racing/Rockstar/Husqvarna's Ryan Sipes was missing from the first row today. During his warm-up Sipes encountered a freak accident with another rider, which ultimately took him out of the race where his status could be further evaluated.
Coastal Racing/Husqvarna/MSR's Craig Delong once again found himself leading the XC2 Pro Lites division off the start where he earned the $100 Hot Cams XC2 Holeshot Award. His teammate, Layne Michael, was able to make quick work and take over to lead just a few miles into the race. With a clear track Michael continued leading every lap until the checkered flag was out.
"I got up to the lead about two or three miles into the race," said Michael. "I just got in my groove and tried to push it the first few laps without making any mistakes. It was a big deal to catch up with the XC1 guys and ride with them. I ended up tagging a rock on the last lap and bent my brake rotor enough that I rode the last few miles without brakes. It's just nice to be able to ride like I know how to."
XC2 Pro Lites Podium: (2) Trevor Bollinger, (1) Layne Michael, (3) Craig Delong.
Photo: Ken HIll
Meanwhile, JCR Honda/Lucas Oil/Maxxis/FLY Racing's Trevor Bollinger worked his way from behind to finish on the podium just behind Michael. Bollinger's second place finish earned him enough points to clinch his first ever XC2 Pro Lites title.
"I knew today was going to be tough since the track was so hard-packed and slick," said Bollinger. "Of course I wanted to win, but hats off to Layne because he rode an excellent race. I came here for the championship and that's what I got. I just can't express what this means to us."
Trevor Bollinger also wrapped up the XC2 Pro Lites National Championship today.
Photo: Ken Hill
Delong stayed in contention with a third place finish as he rubbed wheels with Beta USA/Fly Racing/Kenda Tires' Nick Davis through the last few turns of the 10-mile racecourse. Davis and Trail Jesters Racing-backed Benjamin Kelley rounded out the top five riders in the XC2 Pro Lites division.
The $125 American Kargo Top Amateur Award was well earned by the KTM-mounted rider of Zach Nolan. Throughout the twelve rounds Nolan has remained a fixture on the amateur overall podium. Alex Teagarden and Braxton McGee rounded out the amateur overall podium.
Just one week after claiming the WXC National Championship FLY Racing/Maxxis/Seat Concepts/Yamaha's Becca Sheets continued her success with the WXC and 10 a.m. overall win. After exchanging the lead multiple times with Sheets, Factory FMF/KTM Racing's Kacy Martinez held onto the second place position and Super Senior A (45+) class winner Phil Smith finished third overall. Bonzi/RideMPS.com/Yamaha's Brooke Cosner finished out the WXC podium.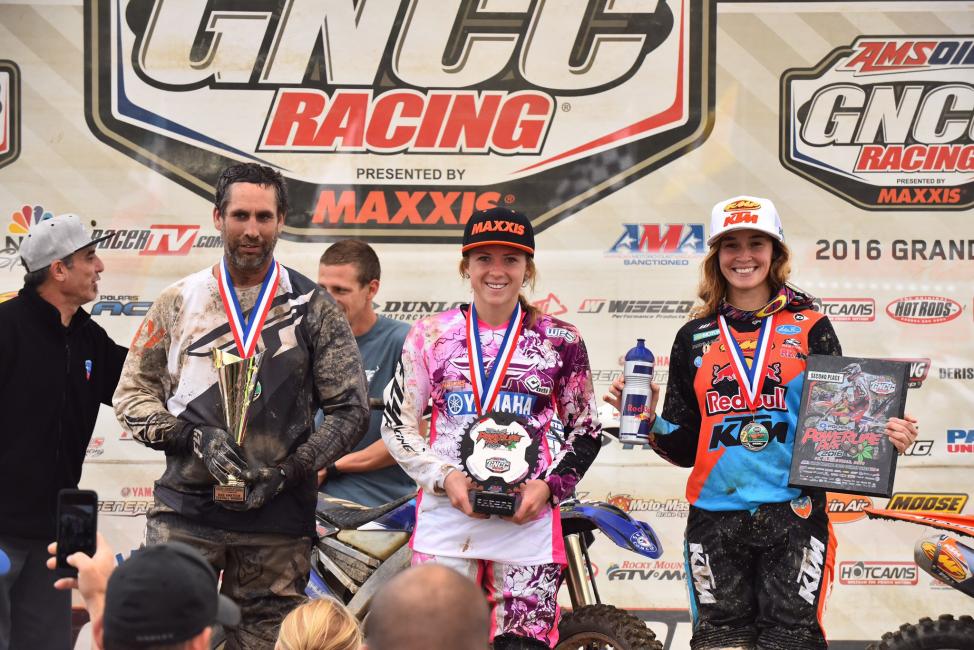 10 a.m. Overall Podium: (3) Phil Smith, (1) Becca Sheets, (2) Kacy Martinez.
Photo: Ken Hill
The 8 a.m. youth race headed into the Ohio woods for the first race of the day. Hunter Riemer topped the charts and took home his eighth overall victory of the season. After an intense battle throughout the hour and a half race Benjamin Wright and Hunter Whipkey crossed the finish line in second and third making for a KTM podium sweep. Riemer's success did not end with the overall win, Riemer also clinched the Youth Overall National Championship.
The season finale for the 2016 AMSOIL Grand National Cross Country Series is set to take place in three weeks, October 29 and 30, in Crawfordsville, Indiana. The world's fastest off-road racers will converge on the historic Ironman Raceway for the 22nd Annual AMSOIL Ironman GNCC.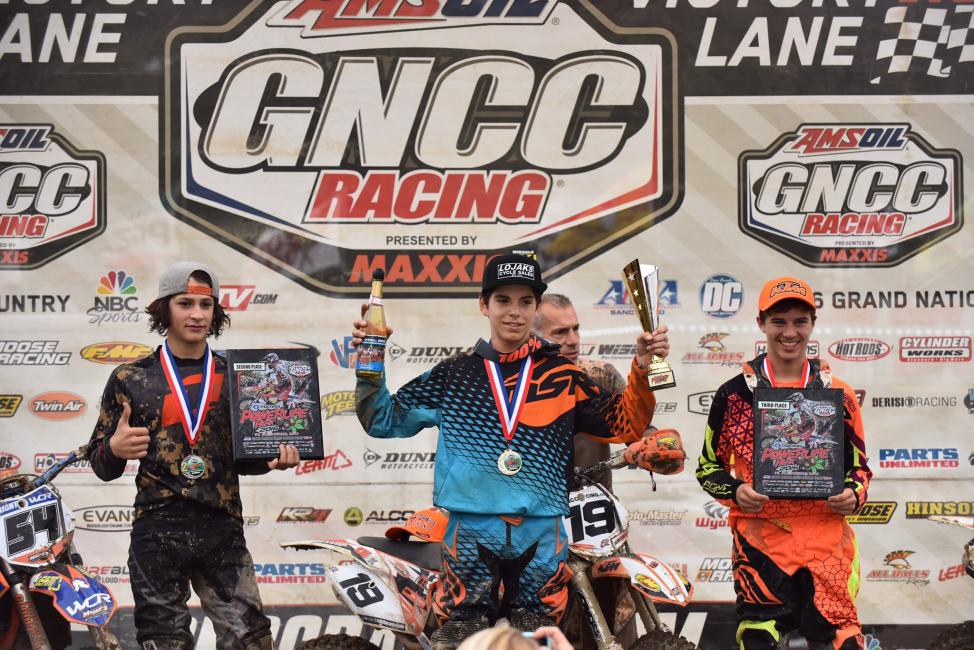 Youth Ovearall Podium: (2) Ben Wright, (1) Hunter Reimer, (3) Peyton Whipkey.
Photo: Ken Hill
For more information on the series, visit the official website at www.gnccracing.com call (304) 284-0084. Join the conversation on the series Facebook page, follow us on Twitter and Instagram, and be sure to always hashtag #GNCC.
Polaris Ace Powerline Park GNCC
St. Clairsville, OH
Round 12 of 13
Sunday, October 2
XC1 Pro Event Results:
Kailub Russell (KTM)
Thad Duvall (HSQ)
Ricky Russell (SUZ)
Jordan Ashburn (KTM)
Grant Baylor (YAM)
Steward Baylor Jr. (KTM)
Chris Bach (HON)
Cory Buttrick (KTM)
Russell Bobbitt (KTM)
Andrew Delong (HSQ)
*Overall National Championship Standings:
Kailub Russell (316)
Josh Strang (236)
Trevor Bollinger (166)
Jordan Ashburn (161)
Thad Duvall (155)
Steward Baylor Jr. (148)
Ricky Russell (141)
Craig Delong (137)
Grant Baylor (132)
Layne Michael (122)
*Indicates that the Overall National Championship Standings will determine the 2016 National Champion.
XC2 Pro Lites Event Results:
Layne Michael (HSQ)
Trevor Bollinger (HON)
Craig Delong (HSQ)
Nick Davis (BET)
Benjamin Kelley (KTM)
Josh Toth (YAM)
Michael Witkowski (KTM)
Vance Francis (HON)
Ryder Lafferty (HSQ)
Austin Lee (YAM)
XC2 Pro Lites Series Standings:
Trevor Bollinger (301)
Craig Delong (254)
Layne Michael (235)
Benjamin Kelley (138)
Joshua Toth (171)
Jesse Groemm (158)
Vance Francis (135)
Michael Witkowski (125)
Samuel Evans (121)
Zack Hayes (113)