This Sunday, October 4, the 2015 Grand National Cross Country Series (GNCC) presented by Maxxis, an AMA National Championship, makes its return to the Mountain Ridge Trail Riding Park for the Car-Mate Mountain Ridge GNCC. Even though Factory FMF/KTM's Kailub Russell has already locked in the 2015 GNCC National Championship, there is still plenty of racing action left to unfold in the rocky terrain of Somerset, Pennsylvania.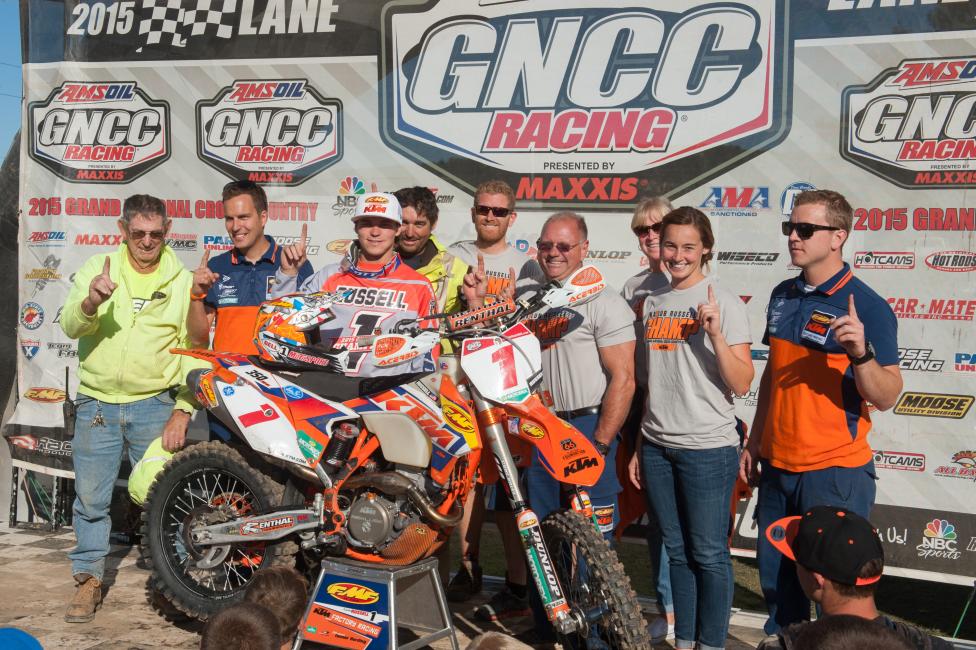 Kailub Russell clinched the 2015 GNCC National Championship
at the last round in New York.
Photo: Ken Hill
Last weekend, Russell became the first racer in the history of off-road racing to clinch both the GNCC and National Enduro Championships in the same season. Both championship victories came after the official announcement that the injury he suffered in the International Six Days Enduro (ISDE) was a torn ACL. Russell will be sidelined for the remainder of the 2015 season, while he undergoes surgery and recovery.
All eyes were on Rockstar Energy Husqvarna Factory Racing's Josh Strang last weekend at the Parts Unlimited Unadilla GNCC. The 2010 GNCC Champion, came back to his winning ways by taking the overall, and proving that he was 100 percent healed from a previous shoulder injury that occurred in the first-half of the season. Although Strang sits fifth in the overall points championship, he is sure to be a front-runner for the podium this weekend.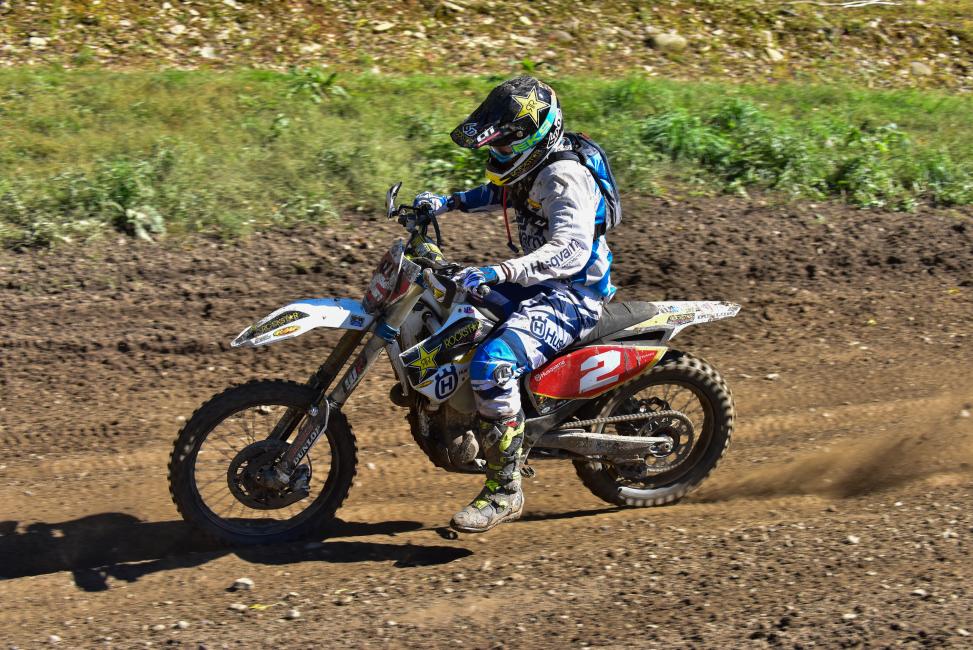 Josh Strang earned his first win of the season at round 10 after returning fully recovered from an injury he sustained earlier in the year.
Photo: Ken Hill
N-Fab AmPro Yamaha's Grant Baylor, comes into this round looking to exceed expectations. The South Carolina native placed second overall at last year's Mountain Ridge GNCC while racing a 250 in the XC2 class, surpassing many of the XC1 Pro racers. Now in his rookie XC1 season, Baylor holds second place in the points championship with only three points separating second and third.
Coming off another season best finish at Unadilla, Rocky Mountain ATV/MC & KR4/FAR-backed rider Thad DuVall holds third place in the championship standings. DuVall has a slew of top five finishes behind him, and is progressively working his way toward a race-win this season.
JCR Honda's Chris Bach sits in fourth in the championship chase with one win this season. Bach rode a consistent first-half of the race at Unadilla in fourth, but struggled in the latter half of the race, crossing the finish in sixth.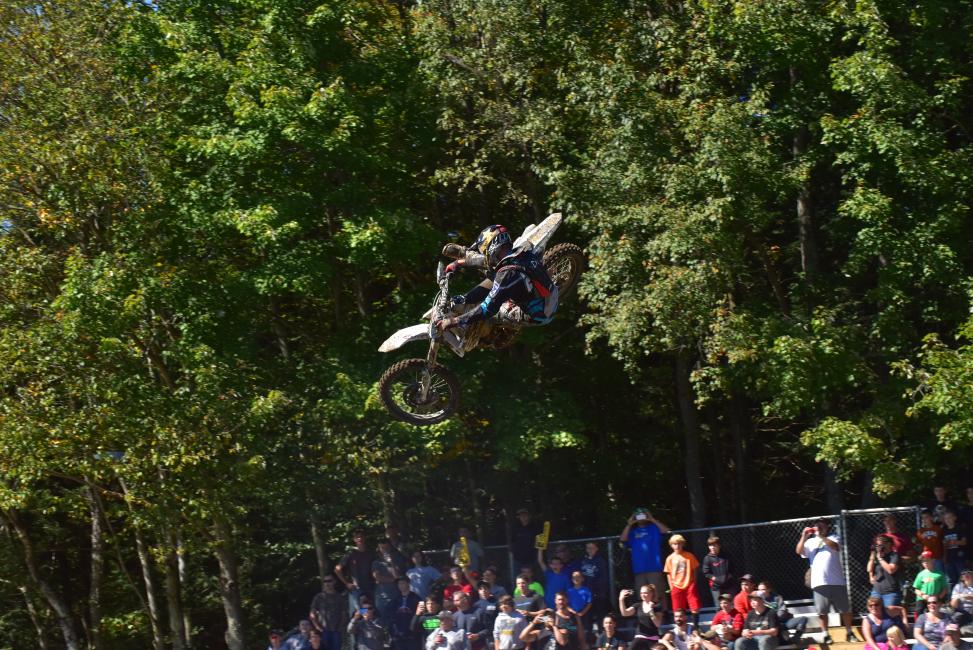 Ryan Sipes was showing off his motocross skills over Unadilla's skyshot at round 10.
Photo: Ken Hill
AirGroup/Rockstar Energy/Husqvarna backed Ryan Sipes continues to impress, as he has been consistently improving his finishes throughout the season. Sipes currently holds the fifth place position in the championship standings, but heads to Mountain Ridge with the confidence to grab his first-ever GNCC win.
"I want to win, and I am going to work hard and focus to try and get a win by the end of this year," said Sipes. "I know it's possible, because I have the speed and strength. I just need to stay focused and look for the overall heading into Somerset."
N-Fab AmPro Yamaha's Jordan Ashburn comes next, sitting in seventh in the championship standings. Ashburn sits only five points behind Sipes, where he looks to continue improving his rank in the remaining rounds.
DirtWise/Maxxis/KLIM's Jason Thomas leads the XC2 Pro Lites Championship with a 76-point lead over Raines Riding University/Atlas Yamaha/OffRoadViking.com's Ricky Russell. Husqvarna Support Team rider Craig Delong sits within a striking distance of R. Russell, behind by only six points. E&H Honda's Trevor Bollinger sits in the fourth place spot, and Rocky Mountain ATV/MC KR4/FAR-backed Nick Davis round out the top five. With the season coming to a close, the racing action is anything but over in the XC2 Pro Lites Class.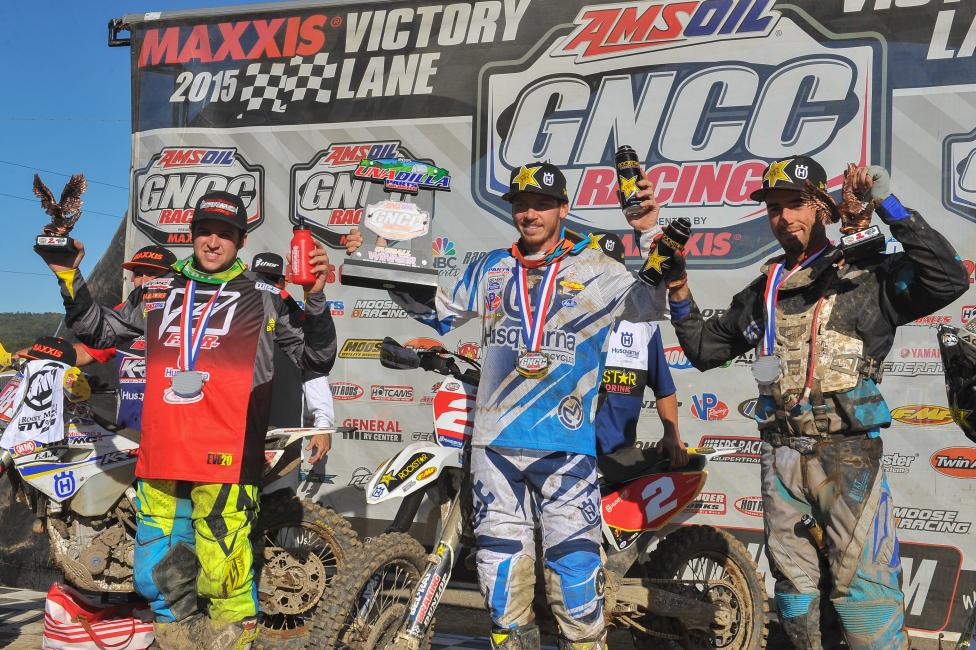 Husqvarna had a podium sweep in Unadilla.
Photo: Ken Hill
With an almost-perfect season thus far, Factory FMF/KTM's Kacy Martinez wrapped up the WXC Championship four rounds early at Snowshoe. Martinez will look to continue her dominance in the final three rounds, where she tops N-Fab AmPro Yamaha teammates Becca Sheets and Jessica Pattereson.
Local racers expected to compete Sunday on motorcycles will be: Michael Delosa (Super Mini 12-13), siblings Hunter (85 12-13) and Mac Riemer (85 12-13), Shawn Myers (85 12-13), brothers Peyton (85 12-13) and Tucker Whipkey (65 7-9), Father and Son Carl (Senior A 40+) and Ryder Leblond (85 12-13), Grant Davis (65 7-9), Nathan Dulaney (65 7-9), brothers Ronnie (85 12-13) and Dylan Kosarik (Trail Rider 7-15), Wendy Jaudas (WXC), Doc McGee (Masters B 50+), Mark Michelini (Silver Masters 55+), Justin Deutsch (250 C Schoolboy 12-16), siblings Matthew (200 C Schoolboy 12-15) and Annelisa Davis (WXC), Edward White III (4 Stroke C Lites), Brittan Laird (4 Stroke C Lites), Randy Revoyr (Super Vet C 35+), Neal Seelinger (Masters C 50+), Grant Maryott (Open A), Mason Atherton (250 A), Mark Heresco Jr. (250 A), Joe Marsh (Vet A 30+), Kaleb Williams (250 B) and Scott Dowlin (Vet B 30+).
Youth bike racing will take place Sunday at 8 a.m., followed by amateurs and Women at 10 a.m., while the top amateurs and pros race at 1 p.m.
Spectator passes run $20 for adults and $10 for kids (6-11) for the full weekend (Saturday through Sunday), with pro pit access and pro autographs at no additional charge. Local riders are invited to race the event, as GNCC Racing offers classes for riders of all skill and experience levels. The amateur race entry fee is $40 and riders can sign up at the event.
Tune into Racer TV on Sunday at 1 p.m. EST to catch LIVE streaming coverage of the Pro Bike race. For more information on GNCC LIVE coverage, visit www.racertv.com. A highlight show featuring the event will air on NBC Sports Network on Sunday, December 6 at 4:30 p.m. EST.
The 2015 AMSOIL Grand National Cross Country Series heads to Somerset, Pennsylvania this weekend, October 3 and 4, for the Car-Mate Mountain Ridge GNCC. For more information on the series, visit the official website at www.gnccracing.com or call (304) 284-0084. Also follow us on Facebook, Twitter and Instagram for exclusive content and to catch the latest news.
Previous Round Results
Parts Unlimited Unadilla
Location: New Berlin, NY
Round 10 of 13
Date: Sunday, September 20
XC1 Event Results:
Josh Strang (HSQ)
Thad DuVall (HSQ)
Ryan Sipes (HSQ)
Kailub Russell (KTM)
Andrew Delong (HSQ)
Chris Bach (HON)
Grant Baylor (YAM)
Tyler Medaglia (HSQ)
Jordan Ashburn (YAM)
Cory Buttrick (BET)
*Overall National Championship Standings
Kailub Russell (283)
Grant Baylor (173)
Thad DuVall (170)
Chris Bach (159)
Josh Strang (148)
Ryan Sipes (143)
Jordan Ashburn (120)
Jason Thomas (117)
Ricky Russell (87)
Trevor Bollinger (82)
*Indicates that the Overall National Championship Standings will determine the 2015 National Champion.
XC2 Event Results:
Jason Thomas (KTM)
Nick Davis (HSQ)
Trevor Bollinger (HON)
Ricky Russell (YAM)
Jesse Groemm (BET)
Craig Delong (HSQ)
Scott Grills (YAM)
Benjamin Kelley (KTM)
Dylan Macritchie (KTM)
Ryder Lafferty (HSQ)
XC2 Series Standings:
Jason Thomas (252)
Ricky Russell (176)
Craig Delong (170)
Trevor Bollinger (164)
Nick Davis (150)
Layne Michael (142)
Tegan Temple (122)
Cory Buttrick (122)
Austin Lee (105)
Callan May (94)